On my birthday, when I woke up I ate a delicious breakfast of a baked peanut butter pancake. I loved it.
Afterwards, I opened my present and got a lot of amazing things. Here are just a few of my favourites.
A new pair of headphones
Some fun games such as ColourBrain (You have 11 colour cards and have to answer a question with 1 or more colour cards. An example question would be 'What colour is the lid of  a Marmite jar?'or 'What colour is Mace Windu's lightsaber in Star Wars')
LEGO sets such as a Forklift and Tow truck
Sphero Chariot (For information about a Sphero click here) (A sphero chariot is a car for a sphero to drive.)
Lots of exciting books such as My Cousin is a Time Traveller and The Train to Impossible Places
Then we went to the train station to take a train to Sheffield, unluckily for us, the train we were supposed to be on was cancelled because of the extremely high temperature. It was the highest recorded temperature in the UK.
We went and had a drink in the bar next door, whilst playing a game of Harry Potter and the Prisoner of Azkaban Top Trumps that I got for my birthday.
When we arrived in Sheffield, we went to the National Videogame Museum (NVM). It was the Summer of Buttons. The Summer of Buttons is where there's a workshop on how to make a button, (like a controller for a video game) and other button themed things like a 4-player Pac-Man.
They had loads of old arcade games and some newer modern games. It was a brilliant place. I got to play Miss Pac-man, which is the same as normal Pac-man but Pac-man is a woman and has a bow on her head. I also got to play Donkey Kong and the original Tetris! I loved the NVM and want to go back.
Then we went to Tamatanga which is an indian restaurant. I had lots of small dishes that tasted very nice and were new to me. My favourite dishes were the prawn tempura and the Gunpowder Paneer. I also had a pistachio lassi to drink. It was unusual and very tasty.
When we got back I saw my amazing cake. It was a Minecraft cake.(For a blog about Minecraft click here.) It had a pig, creeper and lots of TNT. A creeper is what Notch(the developer of Minecraft) accidentally created when trying to make a pig. They run towards you, sizzle then blow up in  your face if you don't kill it fast enough. It was an extremely tasty cake! Probably the best I've ever seen and eaten!🎂😋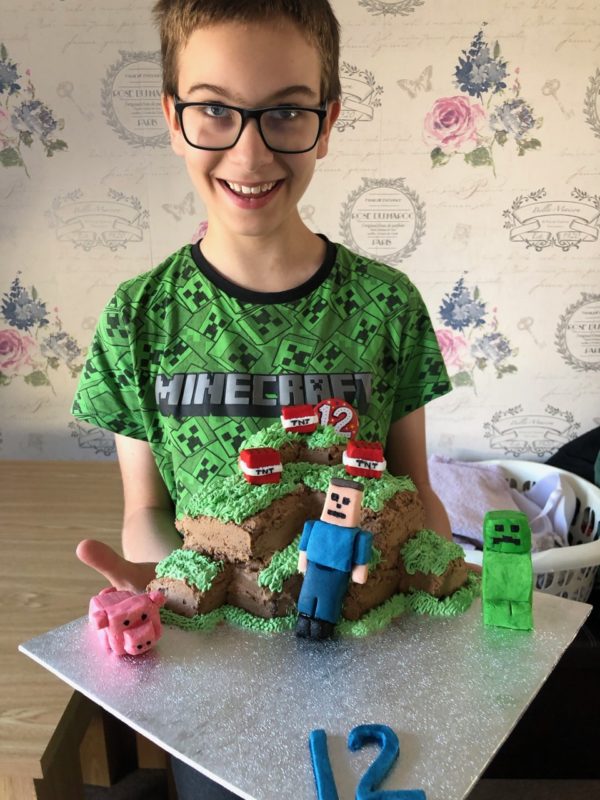 II had an amazing birthday and loved every minute of it.